| | | | |
| --- | --- | --- | --- |
| | | Former Badger and a Fennimore, WI Native, Luke Swan, is a contestant on Michael Irvin's "4th And Long" Reality Show on Spike TV. The winner will receive an invitation to attend the Dallas Cowboys training camp and a shot at making their roster. Check out 4th And Long Mondays @ 10pm EST on Spike TV. | |
---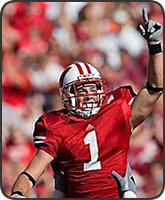 Luke is a native of Fennimore, Wisconsin, where he was a standout at Fennimore High School in football, basketball, baseball, and track. As a senior, Luke captained both his football and basketball teams. He finished his high school career with 121 receptions, for 2,234 yards and 26 touchdowns, along with 18 interceptions as a defensive back. For his efforts, Luke was a two-time All-State, All-Conference, and All-Area selection. Additionally, Luke was a two-time All-Conference basketball selection, two-time conference long jump champion, and won titles in the 100-meter dash, 300 intermediate hurdles, and 200-meter dash. In the classroom, Luke was a member of the National Honor Society and named Who's Who Among High School Student Athletes. Luke graduated from Fennimore High School in 2003, and moved on to the University of Wisconsin where he was redshirted.
In 2004, as a redshirt freshman, Luke appeared in 1 game. Additionally, Luke contributed to the success of the team through his hard work as a member of the scout team. For his efforts, he was named scout offensive player of the week vs. UCF.
In 2005, as a sophomore, Luke appeared in 8 games as a reserve receiver earning his first varsity letter. For his efforts, he received a football scholarship and he was named Academic All-Big Ten.
In 2006, as a junior, Luke appeared in all 13 games, making 10 starts at receiver. He finished the year as the team's third leading receiver with 35 receptions for 595 yards (17.0-yard average) and 5 touchdowns. For his efforts, he was named offensive player of the week on several occasions. Additionally, Luke was named ESPN The Magazine Academic All-District 5 Team, Academic All-Big Ten, and won University of Wisconsin's Ivan B. Williamson Scholastic Award.
In 2007, as a senior, Luke was selected team captain by his teammates. For the year, Luke started 6 games at receiver and had 25 receptions for 451 yards (18.0-yard average), a long of 43 yards, and 2 touchdowns. Luke's season was cut short after he sustained a season ending hamstring injury at Illinois after making 4 receptions for 67 yards. Luke remained a motivating factor for the team during the remainder of the season as a student-coach and addressed the team in some moving pre-game speeches. Despite only playing half of the season, Luke was the team's second leading receiver.
For Luke's career, he played in 28 games, started 16 games, had 60 receptions for 1,046 yards (17.4-yard average) and scored 7 touchdowns. Luke was born on September 5, 1984, is single, and has already graduated with his Bachelor's degree in Kinesiology (December 2007).
**Numbers below reflect the results of Luke's 03/31/2008 Pro Day**
Green Bay, Chicago, Indianapolis, Baltimore, Jacksonville, & New York (Jets) in Attendance
HT
WT
Bench
Press
40-Yard
Dash
20-Yard
Shuttle
60-Yard
Shuttle
3-Cone
Drill
Broad
Jump
Vertical
Jump

5118

189

15x

DNP

3.91

11.10

6.54

10' 9.5"

38.5"